Untitled Jack Nitzsche Documentary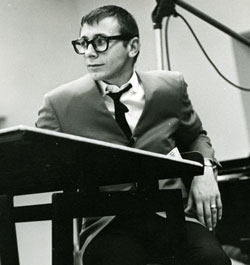 The Jack Nitzsche project is a feature-length work-in-progress documentary about the famed arranger/producer who was co-architect of the Wall of Sound with Phil Spector, as well as artistic muse to the likes of Neil Young and The Rolling Stones, and an Oscar-winning film composer.
For the Jack Nitzsche project, those who have participated so far, include Ry Cooder, Milos Forman, William Friedkin, Graham Parker, Andrew Loog Oldham, Jackie DeShannon, Robert Downey, Sr., C.C. Adcock, Michelle Phillips, Scott Mathews, Ron Nagle, LaLa Brooks, Don Randi, Hal Blaine, Denny Bruce, Russ Titelman, Jeff Barry, Rod McKuen, Warren Zanes, and many other close friends and associates.
The film will benefit from Nitzsche's vast archive of personal photographs and home movies as well as recently discovered footage of Nitzsche himself, discussing his life in music with Willy DeVille, filmed shortly before his death in August 2000 by French filmmaker Julien Gaurichon. 
more coming soon...